Monitoring Health Using Medical Apps on Smartphones, Mobile Devices
In many ways the smartphone is the future of medicine because it can easily monitor your health and even relay the results to your doctor. For example a device for monitoring blood glucose can be connected with an iPhone, which can log blood glucose levels to help manage diabetes. A blood pressure cuff is available works with an iPhone or iPad and blood pressure reading can be stored and relayed to a Web site. Devices to monitor heart rates and chart heart activity are already being used by patients and many more are being developed. Many doctors don't like or trust these devices because they are not in favour of patients monitoring anything and conducting self diagnosis of any kind. Many doctors are reluctant to give you detailed advice about drugs they prescribe for you, but you should insist.
However another group of internet savvy doctors recognise the wonderful range of opportunities these devices provide for better health care, remote monitoring of various conditions and widespread use for general health monitoring such as monitoring fitness and weight loss programs. The idea is not new, but the expanded capability of the new range of devices expands what can be done. Apple computers was promoting iPhones for medical devices and monitoring in 2009.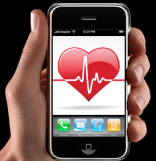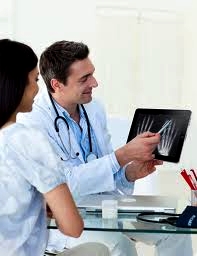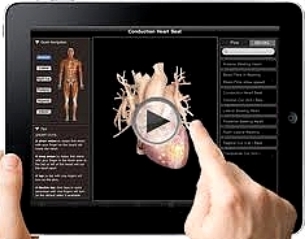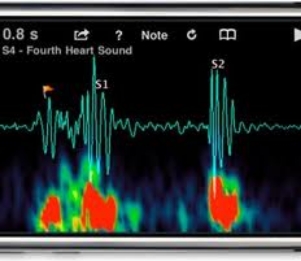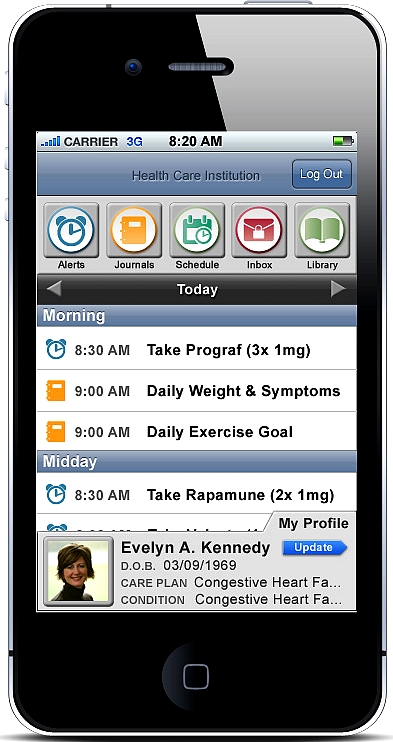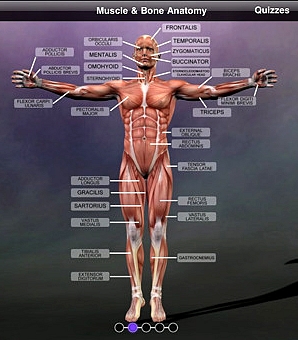 Some of the devices that are already available include:
A French business has developed a blood pressure cuff, that sells for about $129 and can be connected to an iPhone or iPad. The cuff will mechanically inflate to record pressures, take the reading and then deflate and record the heart rate and the body-fluid pressure. The app can graph how blood pressure changes over time, that make it easier to see trends. This app also encompasses a link to a Web site so users can share their blood pressure and heart rate records with their doctors.

The website glucosebuddy.com is designed to assist people to monitor and track changes in their blood sugar levels. The readings have to be entered manually at this stage as there has been some problems developing devices that can continuously record sugar levels. The website links with an app for the iPhone to store the blood glucose readings and information about when it was taken. "Our major aim of glucosebuddy is not to just record numbers. The aim of the site is to show the patient how their blood sugar level changes with meals and diet so that diabetes sufferers can control their eating and lifestyle.

Instant Heart Rate by Modula d.o.o - All you have to do to get a heart rate reading is to place your finger softly over the camera lens on your iPhone. The Instant Heart Rate app uses the camera to detect very subtle alterations in color of the finger, which happens as each new surge of oxygenated blood flows to the finger tip. The app monitors your heart rate over 10 -15 seconds displays an average estimate of your heart rate. This is very useful for those with medical conditions. However many people monitoring your heart rate for controlling the work rates for aerobic exercises. This is very useful for runners and people working-out in the gym. Many people need to know their heart hearts to adjust their work levels. This will ensure people are not overdoing their exercise routines. Your recovery heart rate can also provide a very good indication of your overall fitness.

AirStrip, Cardiology - is a pioneering wireless smartphone application that permits clinicians to monitor a patient's ECG history. The program provides a simple and elegant way of visualising cardiac waveform formation that can be examined, reconsidered, investigated and interacted with. AirStrip Cardiology will permit more timely and more accurate diagnosis and remedies for cardiac patients because the device is so portable and easy to use in the consultant rooms or the patient's home. In addition, the AirStrip Cardiology provides for unprecedented way that Emergency Medical Systems, Doctors and Cardiology teams can work together in collaboration as the images can be sent through the internet between mobile devices.

Calorie and Diet Tracker by MyFitnessPal - This is an very good app for monitoring what you are eating. It presents easy-to-use devices to record the nourishment you consume (and their associated calories) and the amount of exercise you do. It furthermore permits you to set weight loss goals. This is very helpful because investigations have shown that following the nourishment you consume and your weight is a great way to decrease your general calorie intake. See ( Track Daily Calorie Deficit to Guarantee a Weight Loss Program) The app's database of foods is very comprehensive and the software provides a variety of very useful tools. For example, there are devices for assessing your basal metabolic rate (the energy in the form of calories your body needs at rest) and Body Mass Index.

Depressioncheck by M-3 Information - This app assesses the vulnerability todepression and other widespread mood and disquiet symptoms through a 27-item questionnaire. The "M-3" checklist, has been validated for use in adults. As emphasised by the app itself, this is not a diagnostic device but, rather, a way to screen people for risks of the most widespread mood and disquiet disorders. It summaries risk for four specifc conditions: anxiety, depression, bipolar disorder, post-traumatic stress disorder in less than five minutes with an acceptable level of accuracy. But this app only provides an initial assessment and follow-up consultations with a medical professional is require for formal diagnosis.

Milk Monitor by Milo Creative - This app for breast-feeding mums records the times of your baby's feeds, dozes, medications and damp and soiled nappies. Recorded information about feeds include breast used (right and left) and bottle(volume). The recorded data can be distributed via the internet and using Twitter. Recording this information is very helpful for parents, particularly those with sick babies and for mothers who are expressing breast milk for later feeds. Milk Monitor helps provide n assurance the the mother and baby are following the required routine. It can show when there is a deviation from the baby's usual feeding pattern which may a sign that something is wrong.

Sleep Cycle Alarm Clock By Maciek Drejak Labs - In general, people feel more refreshed and wake up feeling better if the awaken from lightweight doze, rather than a deep sleep. This alarm clock app is designed to monitor your sleep level and awaken you when you are in a lightweight stage of sleep, rather than a deep sleep. The app monitors you movement in bed and uses this to as a signal of the stage of sleep. Over about 20-30 minutes before the alarm is due to go off, it monitors your movement and gradually wakes you up at the right time from a shallow rather than a deep sleep stage.

Diabetes Buddy Lite by BHI Technologies - This app has some wonderful features. It was developed to assist persons with diabetes to log. monitor and investigate their information to double-check that their insulin doses are accurate, which is essential for managing their condition. The user enters data about blood-glucose levels, timing of medication and doses in a very user-friendly way. This is important because testing and monitoring blood glucose levels needs to be linked with food intake records (carbohydrate counting) and record of how much exercise is done and when.

Vision Test by 3 Sided Cube – The vision check starts with visual acuity. Each eye is assessed in turn, so the app is much better than many other self-tests on the web that only do both eyes simultaneously. It is very straightforward to use – it displays letters of progressively decreasing size to test your vision. Vision Test is a well-designed, straightforward app that can also do test for color blindness and risks of eye infection. It provides a recommendation for when you should see an optometrist. Like all these apps the tool does not provide a comprehensive eye exam,which needs to be done by a qualified professional.

iMuscle - is a comprehensive gym training tool that you can take and apply anywhere. You can use it to recognise a body part or muscle by using the app to zoom into a 3-Dimensional image of the human body displaying all the muscle groups and individual muscles. Then it provides all the exercises linked with the build-up or rehabilitation of that particular muscle. The apps shows medically correct labels and anatomical models and descriptions for all the muscles making this a perfect tool for physiotherapists.

Nike Training Club - is a fabulous personal training app that provides you your own virtual personal trainer that you can use anytime and anywhere. The app includes more than 60 custom built workouts, including training programs developed from interviews with five professional athletes.

The Eatery - Use this app to take photos of all your meals and food you eat. It does not count calories, but it provides a wonderful record of your eating habits and patterns. The Eatery makes the process of compiling a food diary easy and fast, just snap and provide a health rating. You can use the app to get a second opinion on how healthy your meals are. The Eatery is a great way to learning more about yourself and what you eat. After all 'You are what you eat!'

Fooducate - Get the Fooducate app and next time you go to the supermarket you can use your iPhone to automatically scan a food item's barcode, search for food products, or browse through the products in the database using various categories. See the food products 'good, bad and ugly features. Compare similar products and find healthier alternatives. Fooducate was developed by concerned parents and dietitians to provide better information for consumers about food so that they can make healthy choices. It uses the iPhone's camera to easily scan barcodes to access the database of information for more than 200,000 separate goods, which are being added to every day. Fooducate data is based on the food product's ingredient list and nutrition panel.

P90X - is a comprehensive and highly innovative workout program that has revolutionized home fitness programs and now there is a terrific app that brings it to your iPhone. You can now workout the P90X way anywhere, anytime. Keep records of your program including reps, sets and weights used for various exercise. You can chart your progress towards you goals, log your food and nutrition, and share your results with your friends or a real trainer.

FitnessClass (iPad) - is one of the few apps that provides real-time, fitness video workouts instantly on the iPad. You can choose from an array of more than 300 fitness categories by some of the most elite and well known fitness teachers. You can purchase a 30 Day access for class, or get continual access. FitnessClass permits you watch workout videos streamed to your iPhone or iPad over WiFi or 3G, while you hear to your own melodies (iOS 4+) and get interactive responses. You can select a new type of class or workout every day, glimpse approximate calorie burnt estimates for each class, and post your accomplishments to Facebook & Twitter. The app also allows you to monitor and records your performance data for all of your workout.

Calorie Counter - This is one of the best apps to for monitoring your wellbeing encompassing both your diet and exercise activities! This is ideal diverse goals such as weight loss, gaining weight, a fitness program or monitoring your general health and fitness. It includes a very comprehensive food item database that includes more than 400,000 items with accurate facts and numbers on the most significant parameters. The app will mechanically assess your needs to take supplements for minerals, vitamins and nutrients. You can craft your own diets and exercise plans that are all displayed in colorful graphs.

Pregnancy Support App (Sprout) - Sprout is the most highest-ranked pregnancy app for moms and moms-to-be. It provides lots of comprehensive information about mum and her baby. You can see stunning 3D models and color images, a weight tracker system, a baby kick counter, a way of timing contractions, and lots of information.

Gorilla Workout - Trying to lose weight, build-up your muscle, gain weight, increase strength and energy levels all on a tight budget? Well Gorilla Workout is the ideal fitness app for you that is available anywhere and any time. Gorilla Workout includes more than 40 exercises in various categories. The every day body-weight workout routines blend strength and cardio exercises interchangeably, so that you can accomplish the greatest outcomes quickly. Each workout focuses on a specific muscle group in your core, back, arms, abs, chest, and legs, and to burn fat. With no need for gyms or gear, every workout can be done anytime and anywhere. This is the ideal fitness app for people wanting to get back in shape and trim quickly and at minimum cost.