Dried Fruit Health Benefits and Nutrition Facts for Dried Apricots, Peaches, Pears, Apples and Grapes
The health benefits of fruit are well known and we are all encouraged to eat at least two pieces of fruit a day and to make fruit and vegetables about half of what is on your plate at every meal.
Fresh fruits are seasonal and dried fruits offer a convenient alternative source of the goodness in fruit in a convenient and concentrated form.
Fruit is often used for diets and weight loss programs. However the overall health value of dried fruit is unclear.
The drying processes to remove the water, but unfortunately this process also removes some of the water soluble vitamins including the B group Vitamins, Vitamin C, and also many of the anti-oxidants.
While much of the goodness, such as protein and fiber, are concentrated by drying, the sugars and carbohydrates are also concentrated. This dramatically increases the calorie content of dried fruit both in terms of weight (per 100g) or volume (per cup or 100ml).
As a consequence the calorie density skyrockets - this is the number of calories per volume of food.
One cup of fresh apricots, halved and pitted has 74 calories, whereas one cup of dried apricots has 212 calories (3 times as much). Similarly 100 g of dried apricots has 5 times the number of calories as 100 g of fresh apricots.
So eating dried fruits for their concentrated nutrients may quickly overload you with calories. But most people would not eat a cup of dried apricots!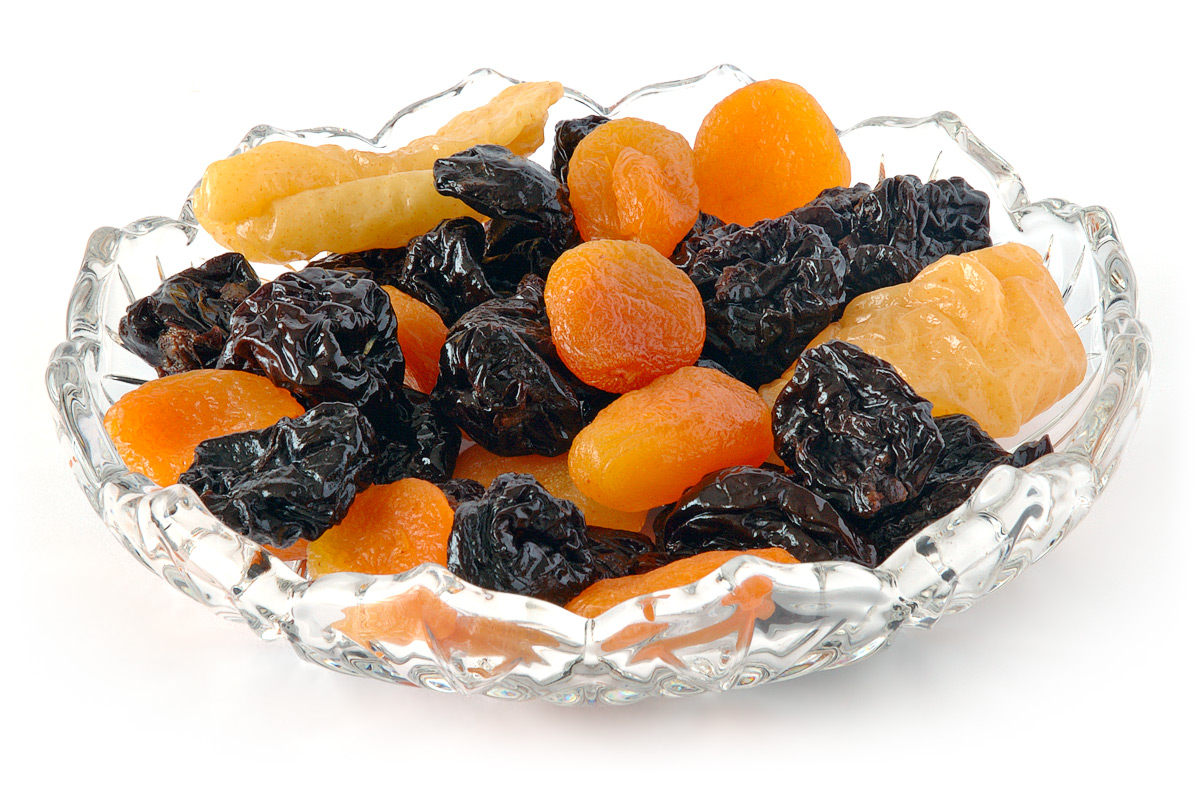 Dried Fruit Nutrients Vary and Many Contain Preservatives
Not all dried fruits are created equal and some are better than others for various health purposes and so you need the nutrient summaries provided in this article to make the right choice.
Dried fruits are expensive and it is important to maximize the 'bang for your buck' in choosing dried fruit.
The other problem with dried fruits is many of them contain preservatives such as sulphur and sulfites, which can trigger allergic responses and asthma attacks in some people.
Organic and preservative-free dried fruit is available but its expensive. Of course you can dry your own fruit at home and not include preservatives.
This article reviews the health benefits of dried fruits by examining their pros and cons in comparison with fresh fruit.
It also provides nutrient summaries for the major varieties of dried so that you can make healthy choices according to your needs.
General Benefits of Dried Fruit
Although not generally as healthy as fresh fruits, dried fruit has many benefits makes them worth keeping on hand. Some of the many benefits are:
Dried fruits are very convenient to use and can be added to many dishes that you would not use fresh fruit as an ingredient. For examples prunes are added to curries and casseroles, but not fresh plums.
Dried fruits are a good source of fiber and roughage which can help maintain health intestines and can help prevent or relieve constipation.
Dried fruits have a long shelf life (up to 12 months) and take up little shelf space in your cabinets.
Dried fruit is a convenient and healthy snack food when eaten in small quantities, due to their high calorie content.
Dried Fruit are very versatile. You can get their health benefits simply by sprinkling them on your breakfast cereal. They can be added to all sorts of baked goods, salads and are used in many dessert recipes as well as curries and casseroles. You can sprinkle them on home made pizzas and many other dishes.
Comparison of the Nutrients in Common Dried Fruit Varieties
The table below provides nutrient data for 100 g of common dried fruit varieties: apple, apricot, bananas, figs, peach, pear and prunes. The nutrients in 100 g of fresh apricots is included for comparison. Major Point are:
The best overall dried fruits in priority order are figs, apricots, prunes and peaches.
The worst overall performers are dried apples, pears and bananas.
Dried fruits such as apricots, pears and prunes have moderate levels of Vitamins, but the levels are generally less than those in fresh fruit. There is more than ten times the amount of Vitamin C in fresh apricots compared with the same weight of dried apricots. This reflects the loss of vitamins through the drying process. The major exception was for Vitamin K which is very high in pears and prunes, and Vitamin A which are high in dried apricots and peaches. Folate levels are high in dried apricots and figs; niacin levels are high in apricots and peaches.
The dried fruit with the largest amount of protein are apricots, bananas and peaches.
Apple and peaches have the lowest amounts of fat
Highest levels of dietary fiber occur in apple bananas and figs, and dried apricots contain about four times as much fiber as fresh apricots
As expected minerals are concentrated in dried fruits. Figs are the stellar overall performer in terms of minerals. They are rich in calcium, phosphorus, iron, potassium and magnesium. Apricots have high levels of iron and potassium. Bananas and pears are rich in Manganese. Apricots, figs and prunes are rich potassium. Peach is rich in iron but few other nutrients.
Disadvantages of Dried Fruit Compared with Fresh Fruit
Food Dehydrators
Dangers of Preservatives in Dried Fruit
Preservatives used when fruit is dried stop the fruit from darkening and losing its appealing color and also limit the amount of and shrinkage. Preservatives are also used also inhibit bacteria growth and so to make the dried fruit safe and to extend the shelf life of the fruit to about 12 months.
The most frequently used preservatives are sodium sulfite and potassium sorbate. Although these chemicals are regarded as harmless, they can produce an allergic reaction in some people. The symptoms usually are temporary. However, sulfites can trigger dangerous asthma attacks. People at risk of allergic reactions or asthma should avoid eating dried fruits and other foods treated with sulfites.
In Australia, dried fruit can contain very high amounts of sulphites – 3,000 parts per million (ppm) compared to 2,000 ppm in the UK, and far higher per serve than any other food consumed by children.
Dried fruit contains more than twice the level in other foods with sulphites such as sausages and cordial drinks. Even the preservative-free varieties may contain residues or contaminants. You can avoid the problem by making your own dried fruit at home.
You can use your oven, set on a very low temperature or a simple food dehydrator.
The homemade dried fruit may be darker and shrink more than fruit treated with preservatives, and the shelf life will not be as long. But you can be assured that it will be preservative free.
Nutrition Data for Common Dried Fruits (Serving Size 100 g). Fresh Apricot is Used for Comparison
| Serving Size (100g) | apple | apricot | bananas | figs | peach | pear | prune | apricot |
| --- | --- | --- | --- | --- | --- | --- | --- | --- |
| | (dried) | (dried) | (dried) | (dried) | (dried) | (dried) | | (Fresh) |
| Calories (Cal) | 242 | 240 | 344 | 250 | 240 | 262 | 240 | 49 |
| Protein (g) | 0.93 | 3.38 | 3.88 | 3.31 | 3.6 | 1.87 | 2.19 | 1.4 |
| Total Fat (g) | 0.33 | 0.52 | 1.8 | 0.93 | 0.75 | 0.62 | 0.38 | 0.39 |
| Total Carbs (g) | 65.91 | 62.65 | 88.28 | 63.88 | 61.33 | 69.69 | 63.87 | 11.11 |
| Dietary Fiber (g) | 8.84 | 7.38 | 10 | 9.76 | 8.25 | 7.56 | 7.16 | 2 |
| Sugar (g) | 57.21 | 53.45 | 47.28 | 47.93 | 41.75 | 62.2 | 38.13 | 9.24 |
| Vitamins | | | | | | | | |
| Vitamin C (mg) | 3.72 | 0.92 | 7.2 | 1.19 | 4.75 | 6.89 | 0.63 | 10 |
| Thiamin (mg) | 0 | 0.03 | 0.2 | 0.1 | 0 | 0 | 0.04 | 0.03 |
| Riboflavin (mg) | 0.14 | 0.06 | 0.24 | 0.07 | 0.23 | 0.16 | 0.19 | 0.04 |
| Niacin (mg) | 0.93 | 2.58 | 2.8 | 0.62 | 4.38 | 1.38 | 1.87 | 0.6 |
| Pantothenic Acid (mg) | 0.23 | 0.52 | | 0.43 | 0.58 | 0.16 | 0.42 | 0.24 |
| Vitamin B6 (mg) | 0.14 | 0.15 | 0.44 | 0.12 | 0.08 | 0.07 | 0.21 | 0.06 |
| Folate (mcg) | 0 | 9.23 | 16 | 9.52 | 0 | 0 | 4.21 | 8.57 |
| Vitamin A (IU) | 0 | 3603 | 248 | 10 | 2163 | 2 | 781 | 1926 |
| Vitamin E (mg) | 0.51 | 4.34 | 0.4 | 0.36 | 0.2 | 0.07 | 0.42 | 0.89 |
| Vitamin K (mcg) | 2.79 | 3.08 | 2 | 15.71 | 15.75 | 20.44 | 59.58 | 3.29 |
| Minerals | | | | | | | | |
| Calcium (mg) | 13.95 | 55.38 | 24 | 161.9 | 27.5 | 33.33 | 42.11 | 12.86 |
| Iron (mg) | 1.4 | 2.65 | 1.16 | 2.02 | 4.05 | 2.09 | 0.93 | 0.39 |
| Magnesium (mg) | 13.95 | 30.77 | 108 | 69.05 | 42.5 | 33.33 | 40 | 10 |
| Phosphorus (mg) | 37.21 | 70.77 | 72 | 66.67 | 120 | 60 | 69.47 | 22.86 |
| Potassium (mg) | 451.16 | 1163.08 | 1492 | 680.95 | 995 | 533.33 | 732.63 | 258.57 |
| Sodium (mg) | 88.37 | 9.23 | 4 | 9.52 | 7.5 | 6.67 | 2.11 | 1.43 |
| Zinc (mg) | 0.19 | 0.4 | 0.6 | 0.55 | 0.58 | 0.4 | 0.44 | 0.2 |
| Copper (mg) | 0.19 | 0.34 | 0.4 | 0.29 | 0.38 | 0.38 | 0.27 | 0.09 |
| Manganese (mg) | 0.09 | 0.25 | 0.56 | 0.5 | 0.3 | 0.33 | 0.29 | 0.07 |
| Selenium (mcg) | 1.4 | 2.15 | 4 | 0.71 | 0.5 | 0.22 | 0.21 | 0.14 |
| Fatty Acids | | | | | | | | |
| Saturated Fat (g) | 0.05 | 0.03 | 0.68 | 0.14 | 0.08 | 0.04 | 0.08 | 0.03 |
| Monounsat Fat (g) | 0 | 0.06 | 0.16 | 0.17 | 0.28 | 0.13 | 0.06 | 0.17 |
| Polyunsat Fat (g) | 0.09 | 0.06 | 0.32 | 0.36 | 0.38 | 0.16 | 0.06 | 0.07 |